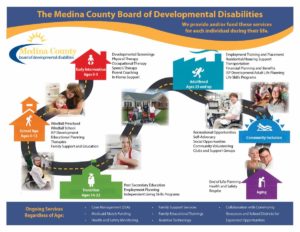 The Medina County Board of Developmental Disabilities (which you may also know as the Achievement Center or Windfall School) is placing a 1.12 mill renewal levy on the Nov. 5, 2019 ballot. Issue 12 is not a new tax or an increase.
Renewing the levy will continue to cost a homeowner roughly $2.71 per month on a $100,000 home.
ABOUT THE RENEWAL OPERATING LEVY
This levy ensures continued funding for vital services for people with developmental disabilities throughout their lifetime.
Since this operating levy passed in 2010, MCBDD has seen:
– 147% increase in Early Intervention Services for young children (ages 0-3)
– 61% increase in the number of people we have helped find employment
– 58% increase in funding responsibility for services
The MCBDD has leveraged current levy funds to bring over $106 million of federal taxpayer money back to programs in Medina County. This allows the MCBDD to meet ever increasing needs for services without asking for additional local taxpayer burden.
If Issue 12 fails, all areas of service will be substantially reduced or cut.
You can learn more by following clicking HERE.