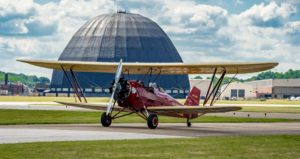 A family-oriented air show is once again coming to Akron-Fulton Municipal Airport this month. The Props and Pistons Festival, August 17-18, offers an affordable and fun experience for the entire family. You can see flying demonstrations, aircraft on display and even an automobile & custom motorcycle show.
For the first time in over a decade Aerobatic aircraft will perform over the skies of Akron. World renowned aerobatic pilot, Rick Volker, will show off the amazing capabilities of his Russian built Sukhoi SU-26 aircraft. Rick demonstrates what it takes to be a champion of Unlimited category aerobatic competitions with his signature maneuvers while shocking the crowd with extremes of flight that very few pilots in the world can duplicate. Rick will arrive days in advance to visit with kids at Akron Children's Hospital & several youth groups and he'll be signing autographs at the show.
Props and Pistons gives visitors a chance to get up-close and personal through airplane tours, warbird, biplane and helicopter rides. The dozens of displays range from current military, WWII warbirds, commercial, and specialty aircraft as well as other non-aviation displays. At this show you can see massive Air Force transport planes, such as the C-17 Globemaster or C-130 Hercules, parked next to something as simple as a Piper Cub. There will also be a FREE Kids' Zone, live music and food trucks.
FREE parking and shuttle busses are available at the Derby Downs parking lots.
For more detailed information on the Festival: www.flyohio.org or Facebook.com/flyohio .