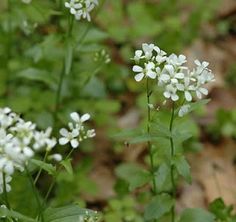 Soon, winter will loosen its snowy grip on Northeast Ohio, and wildflowers like spring beauty, yellow trout lily, marsh marigold, and others will add a welcome burst of color to our region's forests and fields.
There are reports of one of Ohio's earliest wildflowers, skunk cabbage, already poking up through last year's fallen leaves in the woods.   Don't miss this exciting time of year. Experience the wonders of the changing season by taking part in Medina County Park District's first-ever Spring Native Wildflower Challenge.
"This challenge is a way to encourage people to get outside and enjoy the unfolding of nature as they search for common native spring wildflowers in Medina County parks," said Interpretive Services Manager Shelley Tender. "These beauties aren't here for very long, so you have to be quick!"  
Here's how to participate Print a copy of the Wildflower Challenge brochure at www.MedinaCountyParks.com, or pick one up at Wolf Creek Environmental Center, Susan Hambley Nature Center, or park district headquarters. Please check the website for hours of operation.
Using the checklist from the brochure, look for native wildflowers in any Medina County Park District park or preserve between March 1 and June 1. Take a clear picture of each flower you find. In the photo, be sure to include the "I Found It!" card from the brochure. Please do not pick wildflowers in the parks, and remember to stay on the trails when photographing them.
When you've found at least 15 of the 23 wildflowers on the list, bring the photos on your phone or camera along with the completed checklist to Wolf Creek Environmental Center no later than June 15 to claim your prize. The first 15 participants to complete the challenge will receive a wildflower identification guide (one per family, please.) All others will receive a packet of wildflower seeds.
If you're up for an extra challenge, find five out of ten additional wildflowers listed in the brochure and be entered in a drawing for a $50 gift card from Boyert's Greenhouse & Farm. Not sure you can identify all the wildflowers on the checklist? Tender recommends two things. Stop by Wolf Creek Environmental Center any time during the challenge and have a naturalist look at your photos to verify your finds. Or consult one of the wildflower identification guides recommended in the brochure.
Don't forget to share your wildflower discoveries on Instagram using the tag #medinacountyparks. You can also document your findings along with other citizen scientists by posting your photos on www.iNaturalist.org under the Medina County Biodiversity Project.