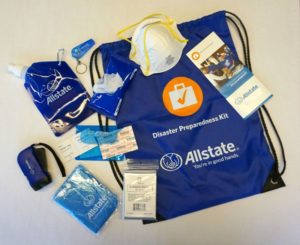 In 2017, disasters affected nearly 25 million people*, yet 83 percent of Americans are unprepared for a disaster. Since 2017, the occurrence of weather-related disasters has increased 33 percent.** This spring, when fires, floods and extreme weather could affect any part of the country, Allstate agency owners will help their local communities understand the importance of being prepared and ensure local families are prepared if a disaster strikes.
From March 11 through March 15, Cleveland-area residents are invited to pick up a free disaster preparedness kit from a participating Allstate agency, while supplies last. Each starter kit includes a first aid kit, emergency blanket, flashlight, rain poncho, dust mask, whistle and water bottle.
Allstate agencies throughout nine states are joining together in this disaster preparedness effort. Participating Cleveland-area Allstate agency locations include:
Thomas Allen: 1324 Cooper Foster Park Road West, Lorain
Gabe Cicconetti: 9952 Johnnycake Ridge, Concord
Gabe Cicconetti: 76 S. Park Place, Painesville
Joelle Cole: 8006 York Road, North Royalton
Daniel Davis: 17016 Lorain Ave., Cleveland
Daniel Davis: 1257A Rockside Road, Parma
Tanya Howard-Grace: 2490 Lee Blvd., Suite 101, Cleveland Heights
Jason Lewis: 12331 Pearl Road, Strongsville
Scott McKown: 8540 Tyler Blvd., Mentor
Kristen Monroe: 140 East Aurora Road, Northfield
Kristen Monroe: 9224 Darrow Road, Twinsburg
Tom Muntean: 1154 Hinkle Dr., Suite H, Wadsworth
Thomas Peel: 12 W. Garfield Road, #1, Aurora
Michael Preisler: 5662 Mayfield Road, Lyndhurst
Ricardo Prude: 21403 Chagrin Blvd., Suite 250, Beachwood
Michael Reardon: 10776 Kinsman Road, Newbury
Brian Sharp: 5294 Mayfield Road, Suite 100, Lyndhurst
Brian Sharp: 2713 Hubbard Road, Madison
David Stover: 72 East Market St., Tiffin
Nicholas Walker: 715 Babbitt Road, Euclid
Deborah Walker: 27900 Chagrin Blvd., Suite 210, Woodmere
In 2019, Allstate and The Allstate Foundation will distribute more than 50,160 disaster preparedness kits to support disaster preparedness and relief programs across the country.