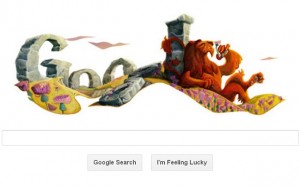 Are you one of the likely millions of people out there who hate their job? Well, if you've always dreamed of a better working environment, "Fortune" has the answer for you. The magazine has come out with their annual list of the best companies to work for, and for a sixth year in a row, Google sits comfortably at number one.
So what makes Google so great? Well, the employee perks for one thing. The company offers 12-week paid paternal leave for both men and women, not to mention a cafeteria full of free food. They even offer a laundry service.
But perks aren't the only thing that nabs a company a spot on the list. The mag looks at things like trust and the company's sense of mission when determining the best of the best.
"Fortunes'" Top Ten companies are:
Google
Boston Consulting Group
Acuity
SAS Institute
Robert W. Baird
Edward Jones
Wegmans Food Markets
Salesforce.com
Genentech
Camden Property Trust
"Fortune" also ranked the best companies for women, basing their calculations on flexible work options, as well as the amount of females in executive positions.
Among the companies for women:
Meridian Health
Children's Healthcare of Atlanta
Perkins COIE
Alston & Bird
Novo Nordisk