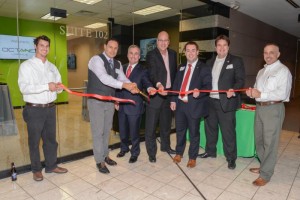 A new high-energy business in Akron is thrumming like a diesel engine on South Main Street in Downtown Akron. Octane Logistics, an asset-based third-party logistics company that provides customized transportation solutions with honesty, integrity and speed, has opened its doors and put the pedal to the floor. The company plans to bring 50 to 100 new employees into the city center in 2016 with an eye toward recruiting millennials.
"Most people who come to us are going to look for a high-energy, positive workplace without the politics," explained Craig Stacy, President & CEO. "And with our location, employees will also get the benefit of a vibrant, culturally exciting, walkable downtown that is definitely on the rebound."
The University of Akron alum Stacy and business partner J.P. Delaney now own three transportation companies, including GDS Express and BMC Bulk. They plan to bolster their deep experience in transportation with a staff of young, ambitious account executives who will benefit from a range of unique perks including unlimited commission, onsite lounge and concierge service.
Additionally, Octane is quickly assembling an innovation team with the goal of delivering a new technology initiative "Moonshot" to propel the company into the future. "There are super smart people out there working on this," Stacy said. "But we're industry guys. We're coming at it from a different way. We're assembling a strategic advisory team to help identify the next differentiation path for our company. We don't want to be 'me-too.'"
Octane currently has an extensive customer base looking for highly competitive, quality-based logistics solutions. The company is also accepting employment inquiries from individuals looking to take their career to the next level in a fun, fast-paced environment.
For more information visit the Octane Logistics website at www.octanelgs.com/coming-soon or contact Patrick Coleman at patrick@whitespace-creative.com.

About Octane Logistics
Octane Logistics is an asset-based logistics company in Akron, Ohio, and a premier player in the 3PL space. Formerly GDS Logistics, Octane offers more than 30 years of experience in moving inventory across the U.S., Canada and Mexico. The evolution of the company represents a focused effort to meet customer demands, launch new technology initiatives and expand an agent network.