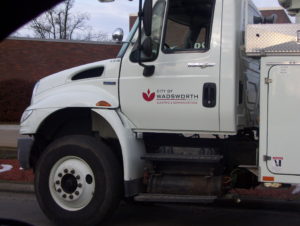 This is Clean-Up week in the city of Wadsworth.
From Monday April 29th through Friday May 3rd, the Wadsworth Sanitation Department will pick-up any additional bags of trash, household items, clothing, books, lawn furniture, BBQ grills, bicycles or loose brush that you put on your tree lawn.
Crews will not accept items over 50 pounds or too bulky for one person to handle. Also, any liquid wastes, appliances, computer equipment, construction or demolition equipment, flooring, carpeting, televisions, exercise equipment and tires will not be picked up.
Place your additional trash on the tree lawn the night before your scheduled pick-up day.