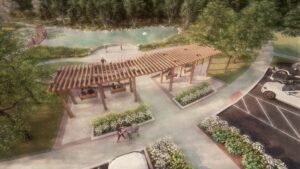 The Medina County Park District (MCPD) unveiled a new master plan for Lake Medina that includes a third entrance to the park, located at the corner of Foote and Weymouth roads in Medina Township.
The future addition is made possible thanks to a generous donation of eight acres by the Shotwell family. In recognition of the family's generosity, this new area will be called The Shotwell Gardens at Lake Medina. It will include an outdoor amphitheater, a small pond, an indoor space for public programs, gardens featuring native plants, walking trails, treetop views, and more.
Improvements that will provide access to the water for fishing and paddlecraft and a concept to turn the former pump house into an observation platform are also included in the master plan.
MCPD Director Nathan Eppink anticipates construction will take place in phases beginning in 2025. "Visitors will be able to watch this site grow over several years." You can read more HERE.
Lake Medina was created in the early 1960s when the
City of Medina – City Hall
was looking for a way to supplement its water supply. In 2002, due to increasing demands for water usage as the city grew, an alternate water supply from Lake Erie was developed, and Lake Medina was no longer needed as a water supply. In 2003, MCPD secured a lease agreement with the city of Medina to turn the 103-acre lake into a county park.