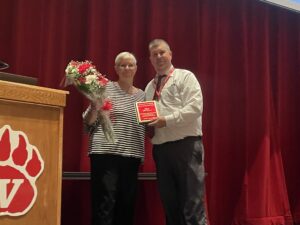 The Wadsworth City School District announced Linda McNamara as the 2023 Wadsworth Emeritus Hall of Fame inductee.
Mrs. McNamara was a dedicated high school choir teacher who started her teaching career in 1972 at Copley and came to Wadsworth in 1983. She retired in the 2014-2015 school year, giving her 43 years in education, the last 32 at Wadsworth.
During her tenure, Linda won the WHS Teacher of the Year award, voted by the students. She has directed many musicals and the
community choir, orchestrated countless concerts, and taught every class imaginable in the choir department. Her choirs consistently received superior ratings over the years.
"Linda was always willing to put in the extra effort for our students and community," the district said in a Facebook post.
Linda also started the Rhythm in Red Show Choir, a beacon of the choir department. The show choir has delighted several community organizations like the Lions Club, Women's Club, and the Chamber of Commerce with their traditional holiday programs, and they traveled to the elementary buildings to continue with the holiday joy. These traditions continue to this day.
From athletes to scientists, car lovers to writers, she taught any student the ability to read music and sing in four-part harmony. She even taught music theory when a group of garage band boys signed up for her class. They were completely impressed that Linda was able to rip off a mean version of Metallica's "Damage Inc." on the piano. As Linda quoted a little advice from her father, "If you love what you do, then it isn't work," and she love being part of WCS.
"We want to congratulate Linda McNamara on behalf of Wadsworth City Schools for being this year's inductee to the Wadsworth Emeritus Hall of Fame."