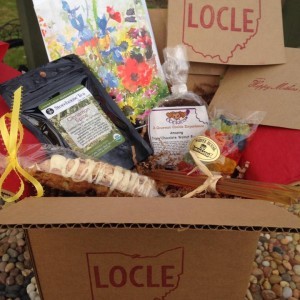 One woman's tradition of giving northeast Ohio-made gifts to family and friends around the holidays has turned into one fun adventure. Deby Lexow, 65, of Bainbridge Township, is now introducing people around the world to the incredible artisan products – old and new alike – that northeast Ohio has to offer.
With the help of her oldest daughter, Deby launched LoCLE Box (pronounced "local") in the fall of 2014, a venture in which she carefully selects and hand makes each box, before filling it with specialty items made in and around Cleveland.
LoCLE's themed, vintage style gift boxes can be ordered online and are filled with products such as pure maple syrup, coffee and tea, pancake flour, raw honey, Amish popcorn, homemade jams and specialty pastries. You can even call LoCLE to create your own custom box.
"I love where we live and I love sharing what is made here," says Deby, who is all about showcasing the incredibly talented people who make the local products that fill her LoCLE boxes.
Every LoCLE box is hand-packed with attention to detail and contains an added personal touch: a handwritten note with a message from the sender and a heart sticker. Whether you've bought a box for yourself or are sending one as a gift, your LoCLE box will arrive beautifully packaged and filled with lots of goodness and love from northeast Ohio specialty stores — like mine did!
Visit LoCLE online to learn about the makers, custom boxes and beyond: https://loclebox.com/ or on Facebook: https://www.facebook.com/loclebox.