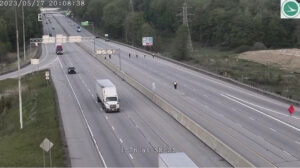 The U.S. Marshals Office in Northeast Ohio has arrested a man in Columbus in connection to the road rage death on I-76 near Route 21 in Norton last month.
Authorities say Dacarrei Tovon Kinard, 30, is facing a murder charge in the road rage shooting death of 40-year-old George Jensen of Akron.
Jensen was on his way home from his IT job at ECS Tuning in Wadsworth on May 17 when the incident occurred around 5:35 p.m. The highway was closed for hours as police worked the scene and gathered information.
Funeral services for Jensen were held last weekend.
Previous Coverage: https://tinyurl.com/46a5esh8