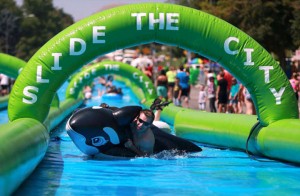 There's a 1,000-foot traveling water slide set to splash streets of northeast Ohio this summer.
Slide the City, a giant slip-n-slide, covers the streets of major cities across the U.S. It will come to Lock 3 in Akron on Aug. 2 for a day filled with water fun.
Registration isn't open yet but you can join the waiting list here: http://www.slidethecity.com/events/akron/
The giant water slide will also be coming to Cleveland and Youngstown this summer.