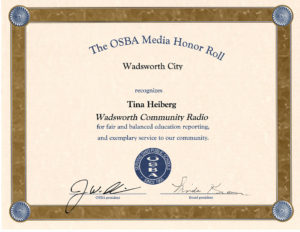 Reporters and editors have the power to shape and influence community attitudes about public schools. Whether it's good news stories about district achievements or controversies and conflict, the public relies strongly on the news media to learn what's going on in its schools.
School leaders who build positive working relationships with the media help ensure the public learns about the many great accomplishments of their students, staff and schools. Those relationships also can go a long way toward getting a fair shake and mitigating damage when bad news crops up.
The purpose of the Ohio School Boards Association (OSBA) Media Honor Roll is to recognize journalists and news outlets that provide fair and accurate coverage of public schools. Participation in the program helps school districts create and maintain positive working relationships with their local news media. Those relationships help ensure fair, balanced reporting along with continuing community support.
The OSBA Media Honor Roll, started in 2002, recognizes media representatives in print, radio and TV. Winners are chosen because they:
– work to get to know the superintendent, board president and district communication director as well as the district's mission and goals
– report school news in a fair, accurate and balanced manner
– give a high profile to positive news about schools
– maintain a policy of "no surprises," by always giving school officials the opportunity to comment on information to be aired or published
Districts were invited to select journalists they felt were deserving of this statewide honor. The three of us here at Wadsworth Community Radio are honored to be chosen and really love what we get to do for the schools and in the community!