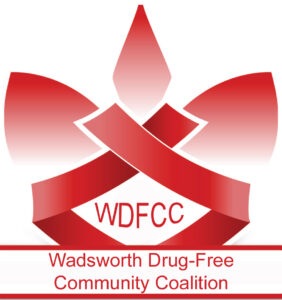 Wadsworth Safety Director Matt Hiscock wanted to make a difference when deaths from overdoses spiked in 2015-2016 across Ohio. He sent a call for help to various community members and the Wadsworth Drug Free Community Coalition (WDFCC) was born. Love and loss was the motive for those who were part of the initial group, like Tina Heiberg, Kelly Woolsey, Dina Giampietro and Tom Stugmyer, among others. The group worked hard to bring the Wadsworth community resources to help addicts and their families who were struggling with addiction. Several high school students even helped create the WDFCC logo as part of a class project.
When active, the WDFCC was able to fund programming in the schools to provide education and prevention of substance abuse within the district.
During the coalition's existence, and with the help of Hiscock and Mayor Robin Laubaugh, Wadsworth saw the first and only Medina County residential treatment facility for substance abuse, open at the Wadsworth-Rittman Hospital.
As time passed, the coalition membership began to change and shift. Once COVID hit in 2020, meetings went virtual and the active membership dropped even more.
In late 2021, coalition president Robert Newman said the WDFCC had a consultant look at the past, present, and potential future of the coalition and its goals. After interviews and in-depth research on the coalition, the consultant gave the WDFCC several options for moving forward.
"One option was to 'twilight' the coalition and disperse our existing funds to programs who support our mission," Newman explained. "The coalition met and discussed our options. We all agreed we wanted the money we raised to stay in the Wadsworth community."
Newman reached out to the Akron Community Foundation and asked them to come talk with the coalition to explain the concept of a Designated Fund, a type of grant making program where the coalition's members outline exactly how they want their funds distributed and to whom they can be distributed to.
"A couple of major benefits of the Designated Fund are: people can continue to donate to the fund even after the actual coalition is dissolved, and the WDFCC money is invested along with ACF's $260+ million to increase the return on investment for our fund," explained Newman.
The WDFCC membership agreed this was the best move and best use of the funds in reserve and ACF was chosen to handle the WDFCC funds because of their financial position, their expertise in managing designated funds, and their connection to Medina County (Medina County Community Fund, Medina County Women's Endowment).
By the end of 2022, the Wadsworth Drug Free Community Fund should be active within the Akron Community Foundation. A little more than $18,000 will be transferred into it from the WDFCC.
"People and businesses will still be able to donate to the fund with the assurance all money will benefit the Wadsworth community," Newman continued. "Our designated fund was created with guidelines that Wadsworth City Schools can submit funding requests to cover the cost of any programming or educational materials designed to educate and prevent substance abuse among students."
When asked if the Wadsworth School District would request money from the fund, Superintendent Dr. Andy Hill said, "I'm sure we will at some point. We'll work with our prevention specialist, Beth Beal, and others to identify areas that align with the purpose. When we make a request, I will let you know."