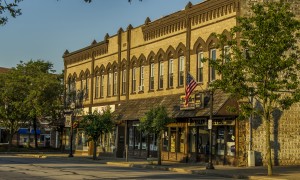 Downtown Wadsworth may be getting a park!
In the past few years, the City of Wadsworth's downtown has seen many exciting developments as a part of its downtown revitalization effort. A recent exciting announcement could have a very positive impact on the efforts to further enhance and strengthen the downtown to meet the community's needs.
In 2016, a City of Wadsworth survey of residents asked the community what initiatives they would like to see downtown. One of the most popular requests was the addition of a central gathering space or park land.  That spurred the City of Wadsworth and Main Street Wadsworth, the City's downtown organization, to collaborate in creating and submitting a proposal for a downtown park through the biennial Ohio Capital Budget.
This week, Wadsworth leaders received word that the proposal for a downtown park project has been included in the State of Ohio's capital appropriations bill that was introduced in the Ohio General Assembly.  Hearings will be taking place in the House and Senate with a vote expected by the end of March.
"I am very excited about the news and the positive impact this would have on our efforts to enhance our downtown. I am thankful to our Legislators for this item being included, as this project could transform downtown for many years to come," Mayor Robin Laubaugh exclaimed, "As a result of the public input during the downtown revitalization planning process, this was shown to be one of the top items our community wants. I am especially appreciative of the collaboration with Main Street Wadsworth and the work of Adrianne Krauss to advance our downtown."
"This news is a really big deal because we want to give the Wadsworth community what they have been asking for, and now that dream may become a reality," said Main Street Wadsworth Executive Director Adrianne Krauss. She added, "I am so grateful to Ohio Senate President Larry Obhof and House Representative Steve Hambley and everyone who has been involved in advocating for our wonderful downtown. Our non-profit's mission is downtown economic revitalization and historic preservation, and a park will further those goals and contribute to a vibrant and thriving historic downtown district. We want to give Wadsworth residents more reasons to come downtown and enjoy spending time together and shopping and dining at our local businesses and restaurants."
Details of what the park will include and where it will be located will be determined at a later date, after approval of the funding is guaranteed. The City currently has a committee that is discussing the implementation of ideas from the revitalization plan, and they will be the first step in a thorough planning process for a new downtown park. The committee consists of residents, business owners, City Council, Main Street Wadsworth, Wadsworth City Schools, Wadsworth Public Library, and the Wadsworth Chamber of Commerce.