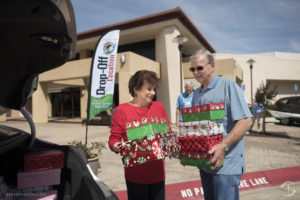 Operation Christmas Child, a project of international Christian relief organization Samaritan's Purse, delivers gift-filled shoeboxes to millions of children in need each year. One of these gifts reached Yves Dushime in Rwanda when he was a young boy. Dushime is now visiting Wadsworth residents to share how the simple gift had a life-changing impact on him as he realized God is able to use simple gifts to plant seeds of hope in desperate circumstances.
Dushime will be telling his story at the Operation Christmas Child Shoebox Social hosted by the Akron Area Operation Christmas Child Team. He wants to encourage residents as they kick off the upcoming collection season to fill more than 30,000 shoeboxes with fun toys, school supplies and hygiene items—contributing to the global goal of reaching 11 million children in Jesus' Name.
The Shoebox Social will be held on Thursday, September 13, 2018 at Northside Christian Church, 7615 Ridge Rd. in Wadsworth. Doors open at 6:00 p.m., followed by a special program and Yves' testimony at 6:30 p.m. This event is free and open to the public. Experience the journey of a shoebox and the impact a simple gift can have on the life of a child. Following the presentation, enjoy a shoebox social and learn how to become involved in this life changing ministry.
During Operation Christmas Child's National Collection Week Nov. 12 – 19, area residents can drop off gift-filled shoeboxes at multiple locations across Medina county, including Northside Christian Church.
For more information on how to participate in Operation Christmas Child, visit samaritanspurse.org/occ.