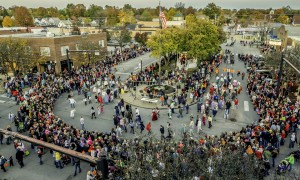 Downtown Wadsworth boasts beautiful buildings, bustling streets and happy residents and workers. It's a place where you really feel the truest sense of community.
On Thursday, the downtown area will be evaluated by Heritage Ohio, as Wadsworth looks to become a Main Street City. The Main Street program is designed to improve all aspects of a downtown, from strengthening public participation and making downtowns a fun place to visit to recruiting new businesses, rehabilitating buildings, expanding parking and more.
Becoming a Main Street Community isn't easy. Only 30 cities across Ohio and 2,800 across the U.S. have qualified.
"We have something that everyone wants and that everyone likes to go to," said Jack Ollom with Downtown Wadsworth Inc. on Wadsworth Community Radio Tuesday morning. "Downtown Wadsworth lends itself to mom and pop type shops, unique and unusual businesses, including food and book stores and clothing."
The Main Street Committee looks for historic preservation and Ollom thinks Wadsworth is positioned well for being accepted into the organization. Ollom said Wadsworth has been successfully bringing people to the area in a variety of ways, including 12-13 events hosted by the community every year.
Becoming part of the Main Street community means additional doors to grants and communication with highly successful downtowns, such as Medina and Wooster.
"We say we're the front porch to the world," said Ollom. "We could use funding for revitalizing building storefronts. Many have been modernized and we'd love to bring the Victorian buildings back and restore them to their original charm and give it that ambience."
Main Street cities bring vibrancy to a community and "we are confident we'll be accepted," Ollom continued.
It usually takes two weeks before the committee accepts a city to be included or recommends a city get an associate membership, whereby a report is issued on areas to fix to get up to status and then a community can reapply the following year.
"We use downtown differently now than we did before," Ollom explained. "We don't just go to downtown to do banking, we use it for celebrations, championships, a gathering place for everyone for most occasions and our downtown deserves to look its best."