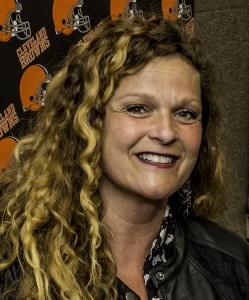 It would seem that teaching music to Wadsworth Elementary School students in grades one through four would be quite a challenge. That challenge for Music teacher Diane Gorsuch starts at the door of her classroom by using methods that are out of the ordinary.
"On the first day of class, I welcome the students inside with a drum beat. After a couple weeks, they take over that drum beat pattern. I don't have any seats in my classroom because we are busy marching, walking, galloping and skipping" said Gorsuch.
That pattern helps students learn "a downbeat". Gorsuch has a unique way of teaching young students a change in the beat. "I have them freeze and change into a different shape on every downbeat. And sometimes, on their own, they change from a four-beat pattern into a three-beat pattern".
That's just for starters.
This year, Gorsuch teaches music to students at Overlook, Lincoln and Ishem Elementary Schools. She admits that remembering what school she has to be at on a specific day can be difficult, especially when she's coming off winter or spring break.
"After the marching, then we being pitch-matching and use different techniques to warm up their voices and mine as well" said Gorsuch.
Diane has plenty of performing experience. She has sung at weddings, done Broadway shows at local theaters and has performed Handels Messiah for years. She has even appeared in a couple of movies.
Gorsuch says everyone can sing. How does she know that? "If you speak with inflection in your voice, I guarantee that you that you can match pitch and you can sing. It may not be star quality or TV quality, but most can sing".
Thank you Diane for giving Wadsworth students the chance to learn about their voices and music.