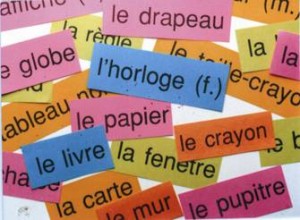 People who are different are usually the ones who end up making a difference in the world. That's how Melissa Eaton would describe her French teacher at Marlington High School.
"She was epitome of a terrific teacher," Eaton said, who was our featured Terrific Teacher Tuesday guest. "She instilled a love for the language and culture."
Eaton explained her high school French teacher led a trip to France the summer before her senior year where they did a one week home-stay and then traveled around France for two additional weeks.
"This experience is what got me interested in becoming a French teacher."
Before graduating from Mount Union, Eaton had the opportunity to study abroad, living with a family in France and taking classes at the University of Pau in the southwest portion of the country.
"I was hired by Wadsworth right out of college and I taught at the high school for two years before I was presented with the opportunity to teach English for a year in two French elementary schools," Eaton said. "This was such a fantastic opportunity and Wadsworth was kind enough to let me pursue this opportunity and then return to my French teaching position at the high school the following school year."
Eaton has been teaching in Wadsworth ever since.
Currently, Eaton teaches French 1 and 4 at WHS and the Exploratory French at WMS, which has been a great way to expose students to the language and culture.
"When the former middle school French teacher Kathy Lewton taught the WMS classes, our French enrollment was great because she was such a fantastic teacher who got the students excited about and interested in French," Eaton said. "When she retired, our numbers suffered because she was not replaced right away.  Fortunately, our high school and middle school administrators worked together to get me in the middle school to restart the French program and now we are seeing a rise in enrollment again."
We've heard the stereotype that the French aren't fond of Americans so we asked Eaton about her experiences abroad.
"I've always had great experiences through my travels. All of the families that I stayed with treated me like their own child," Eaton explained. "I think part of that stereotype comes from people not being aware of cultural differences. Americans don't try to use the language, they still think they're in America. If you try to use the language and learn about the culture, they appreciate it."
"French is such a great language to learn and is very useful in the world we live in.  I am fortunate to have the chance to teach kids a great language and an interesting culture in a wonderful school system!"
Melissa — thanks for educating kids in Wadsworth and making them excited to learn about this beautiful language!