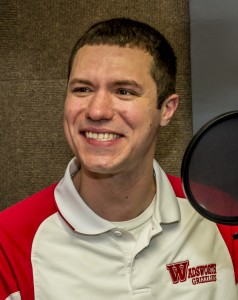 Passion oozes from Ryan Likens, who teaches language arts and is the athletic director at Wadsworth Middle School.
"I'm always encouraging them to not only see the Wadsworth, Ohio, side of things, but to think different," Likens said on the morning show Tuesday with Tom and Tina.
Persuasive speeches close out the year in his classroom, one of his – and his students' – favorite topics.
"The sky is the limit. Within reason, I let them choose their topic. They go up and present it to the class and it's a great way to end the year."
Likens said teachers live for the moments when the light bulb goes on.
"Sometimes at the end of their persuasive speech, they don't feel the same way they did going in…They really learn something from doing this."
Likens graduated from WHS in 2005. His teachers influenced him to become one himself.
He's taught for five years in the district and he's been AD for the past four years. Likens talked about the Suburban League changing, which will stiffen the competition and better prepare middle schoolers for the high school level competition.
So, how does Likens balance both gigs, plus getting his Masters degree? Time management. "I'm very organized so it helps a lot. I'm not surprised by too much anymore."
It was a pleasure meeting you, Ryan! Keep up the fun and education — and laughs with teachers Christa Halicki and Megan Smith! -Tom&Tina