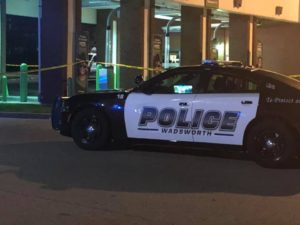 Wadsworth police have released more details surrounding a fatal officer-involved shooting outside Wadsworth City Hall on Nov. 10.
At an afternoon news conference on Friday, Wadsworth Police Chief Randall Reinke detailed the timeline of events leading up to the fatal shooting of 26-year-old Guy Barnard, part of the 911 calls and city camera video showing Barnard drawing a weapon and pointing it at police.
On the 911 call, Barnard tells the dispatcher he's "armed and dangerous" walking in the parking lot of the Wadsworth Police Department with a "pistol." He can also be heard telling the dispatcher he just wants "it to end tonight" and that "people are going to die tonight."
In the 10 second video, Barnard is seen in a verbal exchange with police. Then, he can be seen reaching in his belt, and a second later, pointing the gun at authorities. Officers then fired shots at Barnard, killing him.
The gun in Barnard's possession turned out to be a BB gun.
"It's a very realistic looking weapon," Chief Reinke said.
The Medina County Coroner said Barnard was struck six times. The shooting left several cars in the parking lot with bullet holes and broken glass.
"This incident was a sad and tragic incident. Very uncommon for a city like Wadsworth," Chief Reinke said at the news conference. "Very difficult as the young man involved certainly had ties to this community, knows people in this community, was very trying and difficult for the dispatchers and officers involved, and it's been very difficult for our entire department, as well as the community."
Chief Reinke commended his officers and dispatchers. "They tried to get this young man the help he needed. Unfortunately, he made a decision that made that not possible."
Per policy, all 6 officers and two dispatchers have been placed on paid administrative leave. A pair of Medina County Sheriff's deputies are also on paid administrative leave, per policy.
Toxicology reports on Barnard are not available. It is unclear how many total shots were fired by authorities. The incident remains under investigation.
In 2012, Barnard called in a bomb threat to Wadsworth High School and was charged with – and convicted of – inducing panic.
TIMELINE OF EVENTS LEADING TO FATAL SHOOTING
The incident began with a report of a hit/skip crash on I-76 at Route 94 in Wadsworth around 6:56 p.m. Police say the suspect in the hit/skip, Guy Barnard, 26, then called Wadsworth police stating he wanted to turn himself in.
Shortly after that call, Wadsworth police received a call from someone else, saying a "Guy Faraday" wants to commit "suicide by cop" — a call that prompted local authorities to contact the Medina County Sheriff's Office.
One hour after his initial call, Barnard calls Wadsworth police again saying he has a "pistol" in the parking lot of the Wadsworth Police Department and that he "really just wants this to end tonight."
AUDIO: 911 call 1 – Guy Barnard tells dispatchers he's armed and dangerous
The dispatcher talked with Barnard for seven minutes, trying to convince him to put his weapon down. The call ended with Barnard saying, "people are gonna die tonight."
AUDIO: 911 part 2 – Guy Barnard threatens people will die
Two minutes later, officers arrive to the scene; 20 minutes after that, the SWAT team arrives. After a 28 minute dialogue between Barnard and authorities, Barnard reaches for his waist and draws a gun, pointing it at police.
VIDEO: Guy Barnard pulls gun on police in parking lot of Wadsworth Police Department/City Hall
At 8:30 p.m., officers fire at Barnard, striking him 6 times. Barnard is pronounced dead at the scene.