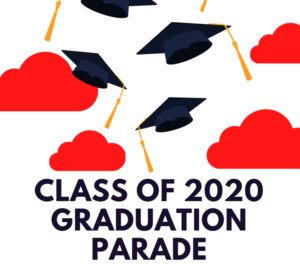 "We are a go for our Senior Parade May 8 at Noon," Wadsworth High School principal Steve Moore said in an email. "We will not let the weather affect our good time."
Below is the plan for the WHS 2020 graduating senior class parade:
1) Students are to arrive at the Student Parking lot at 11:45 a.m. PARK YOUR CAR and STAY IN YOUR CAR in the lower level, closest to the school, lot. Park by the group you want to travel with as school officials will dismiss cars in an organized fashion around 12:15 p.m.
2) FRIENDLY reminder: students are NOT allowed to ride in the backs of trucks and are NOT allowed to hang out of Jeeps. "We want only 2-3 total people in your car.  You can have a family member if you want.  It is a good idea to have someone ride with you to help navigate OR let a family member drive," Moore explained.
3) The Parade Route can be seen
HERE
. It will begin at the high school and end at Weatherstone and Route 94. You can print the .PDF from home. There will be an adult/teacher leading the way for each group (about 10-15 cars) around the route.  YOU MUST still follow all traffic laws. Police are aware of the parade, but want to stress all follow traffic laws. BE CAREFUL.
4)  The Parade Route ends at the North end of town (by the Fire Station). "Please do not congregate after it ends," Moore says.
"We are looking forward to seeing you and enjoying our last day," said Moore. "Let's make the most of it, but do it safely."
During the parade, Wadsworth Community Radio 97.1FM and streaming online will broadcast heartfelt messages from teachers throughout the district as the 2K20 graduating class parade goes on through town!