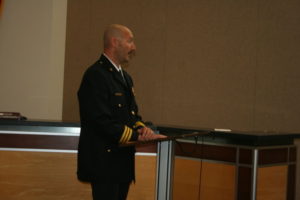 Acting Interim Assistant Fire Chief Robert Lindner, 43, a 25-year veteran of the fire service, 15 as a full-time  Firefighter/Paramedic with the Wadsworth Fire and EMS Department, has accepted the appointment as the new Fire Chief for the City of Wadsworth.
A swearing in ceremony will be held in council chambers at Wadsworth City Hall on March 26 at 11 a.m.
"Among a solid group of well qualified candidates, Bob scored the highest in the city's promotional testing process," said City Director of Public Safety Matt Hiscock. "Bob has worked his way up the promotion ladder, from serving as a part paid volunteer Firefighter and EMT, to full-time Firefighter/ Paramedic, to Lieutenant, Assistant Chief, acting Chief and now Chief. Those who know Bob are well aware of his dedication and commitment to his
profession, the department and the communities he serves," added Director Hiscock.
In addition to Ohio Level II Firefighter certification and Ohio Paramedic licensure, Chief Lindner additionally holds certifications as a Fire Safety Inspector & Inspector Instructor, a Firefighter Instructor, EMS Continuing Education Instructor, BLS Instructor, Fire Officer I, II & III certifications, Advanced Fire Investigations and Health Safety Officer certifications, numerous NIMS certifications and Fire Protection Equipment Technician training. Bob also serves as a firefighter/medic for the Sharon Township Fire Department and is currently completing the academically rigorous Ohio Fire Executive course provided by the Ohio Fire Chiefs Association.
The new fire chief began his Fire and EMS career as a Firefighter/EMT Basic in 1993. In 2003, he became a full-time member of the Wadsworth Fire and EMS Department as a Paramedic and in 2008 he was promoted to Lieutenant and in 2015 to the position of Assistant Chief.
"With his tremendous work ethic and deep commitment and dedication to his craft, in addition to his wealth of firefighting and EMS experience, I'm pleased to appoint Bob Lindner to the Fire Chief position and know that he will work well with the outstanding men and women of our Fire and
EMS Department. I look forward to working with him," said Director Hiscock.
Linder's appointment as Wadsworth's 16th Fire Chief will be effective March 19, 2018.