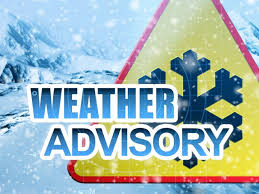 A Winter Weather Advisory is in effect for northeast Ohio through 7 p.m. Thursday. The storm is bringing a winter mix, complete with freezing rain, snow and sleet. Meteorologists predict 1-2 inches of snow. Driving conditions could be difficult with the weather Mother Nature is throwing our way, and across the Midwest.
"We began pre-treating roads with salt brine yesterday in anticipation of this storm," said Wadsworth Service Director Robert Patrick. "We have 4 trucks out on the road at 4:30 this morning to begin fighting the ice and winter mix. We had crews in early to treat sidewalks and parking lots downtown and our snow and ice contractor was in already salting all the sidewalks downtown."
All of this action will continue throughout the day until the storm is over.
You can check the latest weather for Wadsworth here: https://bit.ly/2B7W1v1 .