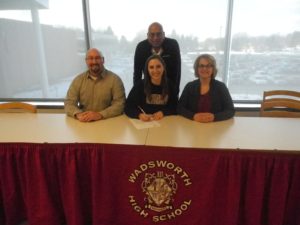 It was quite a day for Wadsworth High School on Thursday. With their coaches and fellow classmates in attendance. the six, along with their parent, announced their athletic plans for when they attend college next year.
The six are Jenna Peters, Golf, Lourdes University; Meggie Flanigan, Golf, Marion Military Institute; Austin Wolfinger, soccer, Mount Vernon Nazerene; Cody Surratt, wrestling, Air Force Academy; Natalie Freno soccer, Malone University and Luke Clinton, baseball, Rose-Hulman Institute of Technology.
Congratulations to all and do us proud.