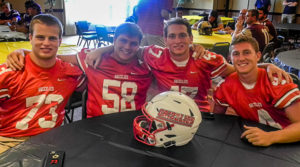 The annual Suburban League Media Day was held on Thursday for all 15 football teams at the Cuyahoga Falls Natatorium.
Wadsworth head coach Justin Todd and Athletic Director Brad Musgrave led the Grizzly contingent.
In his remarks to the media, Coach Todd talked about the youth football camps that were held during the last couple of months for young people in Wadsworth.
Coach Todd said the number of football players in grades 10-through-12 has grown to 70 this year, compared to 45 in the same grades last year. Todd said with this being the second year as head coach, more players and the coaching staff are feeling comfortable with the system.
The Grizzlies will be on the practice field starting on Monday for two-a-days. The first regular season game will be played Friday August 25 against the Firestone Falcons of the Akron City Series at Art Wright Stadium beginning at 7 pm.