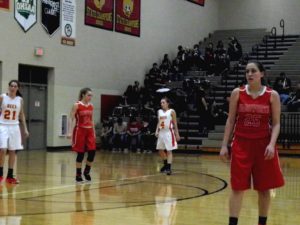 The Wadsworth Lady Grizzlies got back to the .500 mark on the season as they defeated Brecksville-Broadview Heights 63-29 in a Suburban League National Conference game played Wednesday night.
Brecksville jumped out to a 6-3 lead against the Lady Grizzlies midway through the first quarter. But, Wadsworth eventually tied the game at 6. The Lady Grizzlies led at the end of the first quarter 13-8.
Wadsworth stepped up the defense and got some easy baskets in the second quarter to take a 37-17 lead at halftime.
The Lady Grizzlies put together quarters of 11 and 14 in the second half. Brecksville had quarters of 4 and 8 in the second half.
Wadsworth was led in scoring by sophomore Kacie Evans with 17 points. Junior Peyton Banks chipped in with 12 and freshman Taylor Leatherman added 11.
Wadsworth is now 8-4 in the National Conference of the Suburban League. Brecksville is 0-12 in the Suburban League and 2-14 overall.
The Lady Grizzlies are back in action on Saturday night against Hathaway Brown. Game time at the Wadsworth High School Gym is 7:30 pm.