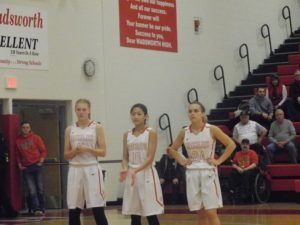 A basket by Kacie Evans with 5 seconds to go in the game gave the Wadsworth Lady Grizzlies a 42-40 win over Magnificat at Wadsworth High School Thursday night.
Wadsworth held the ball for the last shot. Peyton Banks drove the baseline and missed her shot. Evans got the rebound and hit a put-back to give the Lady Grizzlies. A long-distance shot by Magnificat was no good and Wadsworth had back-to-back wins for the first time this season.
The Lady Grizzlies trailed 8-7 after the first quarter. A strong defensive effort by Wadsworth in the second quarter gave the Lady Grizzlies a 23-13 lead at halftime.
Magnificat began cutting away at the Wadsworth lead in the third quarter. But, the Lady Grizzlies had the lead at 34-30 at the end of the period. The Blue Streaks outscored Wadsworth 10-8 in the fourth quarter, but it wasn't enough.
Peyton Banks led the Lady Grizzlies in scoring with 13 points. Sara Spicer led Magnificat with nine points.
The Lady Grizzlies have an overall record of 4-3. Magnificat falls to 3-4.