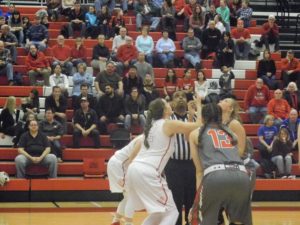 The Wadsworth Lady Grizzlies saw their three- game winning streak come to an end Wednesday night as Mentor defeated Wadsworth 47-37 in the first day of the Believe Roundball Classic at Wadsworth High School.
The Lady Grizzlies jumped out to a 7-4 lead in the first quarter. But, Mentor closed out the period by scoring the last six points to lead 10-7.
The Mentor lead was 6 points at halftime 19-13. It became double digits at the end of the third period with the Lady Cardinals leading 32-22. Each team scored 15 points in the final quarter.
Wadsworth was led in scoring by Kacie Evans and Peyton Banks with 13 points apiece.
The Lady Grizzlies will be back in action Thursday night at the Believe Roundball Classic when they play Reynoldsburg at 7:30. Wadsworth and Reynoldsburg played in the State semi-finals last year in Columbus.
OTHER BRC VARSITY SCORES:
Reynoldsburg 64 Magnificat 38
Chippewa 62 Norton 54