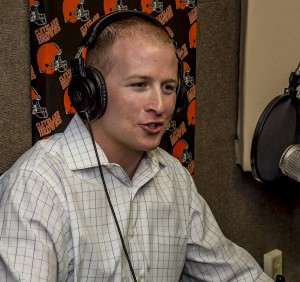 Our Wadsworthian Wednesday guest hasn't really left the city, but his profession has taken him to a new locality.
Many parents and students in Wadsworth will remember Brandon Cobb. He graduated from Wadsworth High School in 2003 and attended the University of Akron.
He returned to Wadsworth to be a student-teacher at Franklin Elementary School. Eventually, Brandon was hired to be a third grade teacher at Lincoln Elementary. After teaching at Lincoln for 6-to-7 years, Brandon decided he wanted to help more students than just those in his classroom.
That led Brandon to take an internship at Wooster High School where he learned about school administration.
That internship led Brandon Cobb to be appointed as the new principal at Kean Elementary School in the Wooster School District.
"I never thought I would never, ever leave the Wadsworth School District" said Cobb. "But, Wooster Schools gave me the chance to expand my horizons".
At 30 years old, many people think that's too young to be a school principal. "I think I've been blessed to be in the right spot at the right time. I think my dedication of education has prevailed and people see that I'm serious about what I want to do" said Cobb.
There is one thing that Brandon Cobb will carry with him from Wadsworth to the Wooster School District. "It's all about passion. Wadsworth residents are passionate about the community, passionate about sports and passionate about education" said Brandon.
One thing Brandon will miss about about his new duties will that he will not be able to coach. Brandon led the Girls Golf Team in Wadsworth and was deeply involved in Wrestling.
But, Brandon Cobb will continue to call Wadsworth home. One of his children attends Wadsworth City Schools and two more are soon to follow.
If there is one statement that Brandon Cobb will carry with him through his educational career, "It's all about the kids".
Brandon Cobb, our guest on Wadsworthian Wednesday.