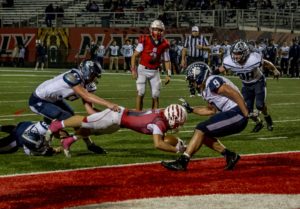 The Wadsworth Grizzlies made it 8 wins in a row on the gridiron as they defeated the Twinsburg Tigers 54-20 in a Suburban League game played at Art Wright Stadium.
It was another big night for Grizzlies senior quarterback Joey Baughman, who threw 5 touchdown passes in the game. Brock Snowball and Mitchell Blackburn each caught 2 touchdown passes. Grant Martinez caught a 12 yard td pass from Baughman to give Wadsworth the lead for good at 14-7 in the first quarter.
Running back Dominic Loparo scored on a three yard run in the second quarter. Wadsworth closed out the scoring late in the fourth quarter on a touchdown pass from sophomore quarterback Trey Shaffer to senior wide out Nate Schickler.
Wadsworth is in sole possession of first place in the Suburban League at 5-0, one game ahead of both Stow-Munroe Falls and Hudson.
Next Friday, the Grizzlies are back at Art Wright Stadium to take on the Brecksville-Broadview Heights Bees. Kickoff is at 7 o'clock.