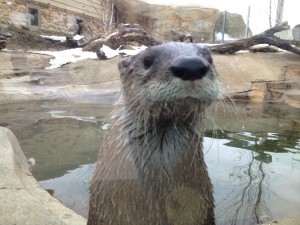 If you're tired of this chilly weather, you aren't the only one. Eric Albers, animal curator at the Akron Zoo, says some of the animals have had enough too.
"When we give the lions access to go outside, they kinda look out the door and look back at you like, 'I don't think so!' Sometimes it will be snowing and cold and the lions will be outside. Other times, they won't go outside all day."
The flamingos and some of the other animals have to stay inside because it's too cold and icy for them to be out. On the other end of the spectrum, the otters don't mind any type of weather. They slide in the snow and play in any condition.
"Snow leopards really like to get out and romp around in the snow too. The red panda, this is his kind of weather. The grizzlies will rumble around, but this time of year they'll sleep mostly in their cave," Albers explains.
Zookeepers use the snow as an enrichment tool for the animals.
"Some days with the wet snow, zookeepers will build snowmen in the exhibit and put a few pieces of meat as the buttons. The tiger goes out, not quite sure what to do, then tackles it and plays around in it," Albers says.
Seeing the animals in the snow for the first time, or animals who are seeing snow for the first time in their life, is Albers favorite thing to witness in the cold months of Ohio at the zoo.