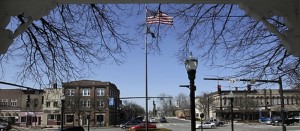 It's time for another First Friday celebration in Downtown Wadsworth.
Tonight's theme is Art in the Alleys and Non-Profit night. There are four alleys located throughout Downtown Wadsworth that are illuminated with "Edison Lights" that will allow artists to set up and display their works.
A number of Wadsworth's non-profit organizations will be set-up in the Downtown area in order to connect with the community.
To top the celebration off will be the unveiling of the first mural in Downtown Wadsworth. It's located in the Northwest Quadrant of Downtown Wadsworth in the "Bicksler" alley. Local artist Paulette Grubb designed the mural.