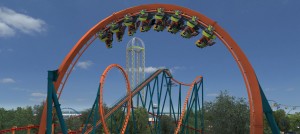 You could be among the first to ride Cedar Point's new roller coaster, Rougarou, as part of a fundraising effort for the LeBron James Family Foundation.
The online auction is now open to be among the first 64 riders on May 8. Follow this link to bid: http://bit.ly/1F6iBzA
The new floorless coaster was created from the tracks of Mantis. Money raised through the auction will support the LeBron James Family Foundation which works to aid single-parent homes, healthy kids and reduce high-school dropout rates.
America's Roller Coast promised to name a ride after James if he returned to the Cavaliers.
Rougarou is a 2 minute 15 second ride that whirls passengers at 60 mph. Riders dive down 137 feet before being heaved through high-speed twists and four howl-inducing inversions.
(Photo courtesy: Cedar Point)