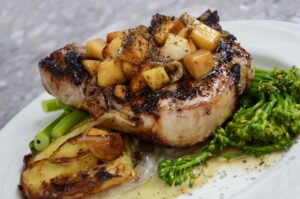 The Taste of Wadsworth is back and ready to showcase the best of Wadsworth's culinary scene! After a two year hiatus, the event will take place on July 19, 2023, and all proceeds will benefit us here at 97.1 FM Wadsworth Community Radio! The Taste of Wadsworth invites restaurants and food vendors to join the celebration and feature their mouth-watering dishes.
"This year's Taste of Wadsworth is going to be bigger and better than ever, and we want all the amazing restaurants in Wadsworth to be a part of it," said event organizer, Judy Powers. "We encourage all local restaurants to come out and share a sample of their signature dishes with our attendees."
The Taste of Wadsworth is a popular event in the community, offering attendees the opportunity to explore Wadsworth's vibrant culinary scene. The event will feature a wide variety of cuisines, including American, Italian, Mexican, and more.
All restaurants interested in participating can contact Judy Powers at tasteofwadsworth@gmail.com for more information on how to register. Kindly submit your requests by April 30th, 2023. Restaurants will have the chance to showcase their culinary creativity and attract new customers, while also supporting a great cause.
"We are excited to invite all local restaurants to participate in the Taste of Wadsworth," said Tom Stugmyer of Wadsworth Community Radio. "This is a fantastic opportunity to bring the community together and enjoy some of the best food Wadsworth has to offer."
For more information on how to participate, please visit our website wadsworthcommunityradio.com or Facebook at https://www.facebook.com/wadsworthradio. Don't miss out on this exciting opportunity to showcase your restaurant's unique flavors and support a great cause!