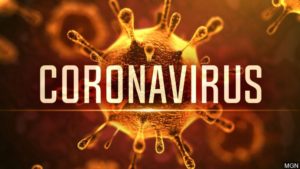 As we continue to rapidly get information and try to understand and navigate unprecedented changes in Ohio amid the coronavirus pandemic, the first effects of the coronavirus are being felt in Wadsworth. Upon the recommendation of the Medina County Health Department, the Soprema Senior Center is closed through March 27 as a precaution. There is also the possibility schools across the state could close for several weeks as a precaution due to COVID-19.
Districts in the area are preparing for that possibility. Wadsworth schools superintendent Dr. Andy Hill outlined in an email what they are currently doing to be part of the solution:
– We will continue to monitor and follow the guidance provided by the professionals at the Centers for Disease Control and Prevention, the Ohio Department of Health and the Medina County Health Department in relation to decisions that have to be made (e.g. closing of school, cancellation of field trips, etc.).  The current guidance does not restrict school being open or field trips from occurring.
– If we were to close school, our current plan would be to assess our responsibility to potentially make up days/hours after the closure is over.  This decision is subject to change depending on the length of the closure.
– We are working through the implications for our school district brought on by Governor Mike DeWine's recommendations, released Tuesday, that include the following:
"K through 12 Schools: Governor DeWine is not currently recommending the closure of elementary, middle, and high schools, however, school administrators should begin planning for that possibility. Parents should also begin planning for the potential that they may need to stay home with their children or find alternate child care solutions.
Athletics: Governor DeWine has recommended that all indoor high school, college, and professional sports competitions be held without spectators. He asks events take place only with athletes, parents, sporting officials, and media. Right now, outdoor sporting events can continue as planned.
General Large Gatherings: Generally, Governor DeWine recommends organizers of any events involving a large gathering of individuals in close proximity be canceled or postponed, such as parades."
Meanwhile, it was announced Wednesday that Stark County has its first case of coronavirus – a community spread case (the spread of an illness for which the source of infection is unknown) – bringing the count in Ohio to four.
The Medina County Health Department (MCHD) reminds residents there are currently no cases of COVID-19 in Medina County. MCHD and the Ohio Department of Health are committed to monitoring and promoting the health and welfare of the public. Restrictions or public closures may become more frequent as part of MCHD's continued efforts to reduce the probability of case spread. Officials say we don't need to "live in fear" or be alarmed when such actions are implemented. Preventative measures will be enforced only when necessary and with the community's best interests in mind.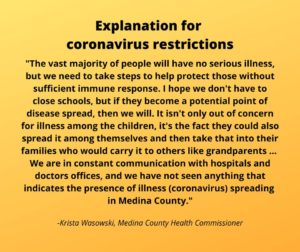 At this time, COVID-19 testing is not available locally. Testing of the general public is also not available.  If a case of COVID-19 is suspected, residents should call MCHD at (330) 723-9688 option 2 or their health care provider to report their symptoms and seek further information.
MCHD encourages the community to support their efforts of reducing the spread of COVID-19 by following these recommendations:
Avoid close contact with people who are sick
Avoid touching your eyes, nose, and mouth with unwashed hands
Wash your hands often with soap and water for at least 20 seconds
Use an alcohol-based hand sanitizer that contains at least 60% alcohol if soap and water are not available
Stay home when you are sick
Cover your cough or sneeze with a tissue, then throw the tissue in the trash
Clean and disinfect frequently touched objects and surfaces
Medinahealth.org or coronavirus.ohio.gov has the latest real-time information on COVID-19.  The websites also have responses to community questions.  You can also follow the Health Department on Facebook and Twitter for the latest updates.
On a broader scale, the NBA has postponed their season due to a player testing positive for coronavirus. On Wednesday night, President Donald Trump cut off all travel from Europe for 30 days and advised against traveling abroad in general. He also said financial assistance will be made available for those affected by the pandemic.