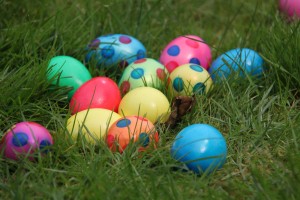 It may be a chilly weekend across northeast Ohio, but no doubt there are plenty of activities on tap for your family to enjoy March 27-29, 2015!
Let's begin in Cleveland with the Cleveland Home and Remodeling Expo. Chip and Joanna Gaines, HGTV Fixer Upper stars, will be there and you could meet and greet them. The home and remodeling expo showcases new trends and home remodeling products, plus offers homeowners a place to shop for home builders, contractors, landscape professionals and more. It's at the Cleveland Convention Center – 300 Lakeside Ave. in Cleveland from noon to 9 p.m. Friday, 10 a.m. to 9 p.m. Saturday and 10 a.m. – 6 p.m. Sunday. Admission is $5 – $10.
Opening for the season today is the IX Indoor Amusement Park. Flashing lights and thrilling screams can be had indoors for $20. The indoor amusement park will be open through April 19. Seniors over 60 and kids under 3 are free. More details: http://www.ixamusementpark.com/Admission/Buy%20Tickets.aspx
Intergalactic Bead & Jewelry Show and the Cuyahoga County Fairgrounds on Saturday and Sunday. Showcasing high quality beads, gems and precious stones.
Address: 19201 East Bagley Road in Middleburg Heights. More info: http://beadshows.com/all-shows/
It's Scout Day at the Pro Football Hall of Fame in Canton tonight from 6 p.m. until midnight March 27. Enjoy the Hall after dark and earn a patch. Activities include games and football fun for $20-$24. Address: 2121 George Halas Drive NW in Canton. More details: http://www.profootballhof.com/default.aspx.
There are more than 30 different Easter events happening across northeast Ohio this weekend. First, Wadsworth Egg Hunt Eggstravaganza from 10-11:30 a.m. Saturday for kids infant to 10 years old in downtown Wadsworth. Look for the bunny poster in the window of businesses that are participating in the egg hunt. You'll see the Easter bunny walking downtown and you could get temporary tattoos at Grace Lutheran Church. Some eggs will even have prizes in them — all will have candy.
There's also Cornerstone's Easter egg hunt at their Portage Lakes campus at 578 Killian Road in Akron at 10 a.m. and noon. Dress accordingly. It's going to be a brisk Saturday egg collection. This is a free event but you may want to bring a few dollars for concessions.
The infamous Eggshelland display is back for its 57th consecutive year at Legacy Village through April 5.
Details: http://www.lyndhurst-oh.com/printnews_2015/printnews20.html
You may want to enjoy a continental breakfast buffet provided in the Manor House at Quail Hollow State Park. An Easter Egg Hunt will take place after each breakfast for kids in attendance. Details and pricing: http://quailhollowpark.net/category/events/. Address: 13480 Congress Lake Avenue in Hartville.
It's time for Breakfast with the Bunny at the Akron Zoo from 9-11 a.m. weekends through Easter, April 5. More info: www.akronzoo.org
No experience necessary to try basket weaving 101 at Wolf Creek Environmental Center. All materials are provided. You can call (330) 336-5951 to register. There is a $15 fee per basket. Basket weaving is Saturday from 9:30 a.m. – 12:30 p.m. at the Alderfer-Oenslager Wildlife Sanctuary/Wolf Creek Environmental Center on 6100 Ridge Road in Sharon Center. Details: http://www.medinacountyparks.com/index.php/en/programs/program-registration
There's a money-saving resale in our area this Saturday at Nordonia High School. "Everything Baby & Kids" Consignment Sale is from 9 a.m. – 1:30 p.m. Details: http://www.gonhpp.com/map-of-consignment-sale-location-nordonia-high-school/.
The Tadmor Shrine Circus is coming to the Canton Civic Center all weekend long. This family-friendly event is an incredible day of fun. Proceeds benefit the Tadmor Shriners. Address: 1101 Market Ave. N in Canton. Details: https://www.tadmorshrinecircus.com. Adults $15, kids ages 5-12 $12 and kids under 5 are free.
Visit and tour the Western Reserve Historical Society for FREE this Saturday. Local students compete for cash prizes and scholarships related to this year's theme, Leadership and Legacy. It's Saturday from 9 a.m. – 5 p.m. at 10825 East Boulevard in Cleveland. Info: http://www.wrhs.org.
The American Red Cross is holding Preparedness Day from 10 a.m. to 4 p.m. March 28 at Belden Village and Chapel Hill malls. The goal is to teach participants the importance of being ready in the event of a disaster. Those who take the 5 minute pre and post test will get a first aid kit to take home.
Finally, Summit County Metro Park swim passes for the 2015 season will go on sale April 1. Passes to swim in the lake at Munroe Falls and Silver Creek are $25 for the season for Summit County residents and $40 for out of county residents. Kids under 2 are free! Both swim areas are open daily, 10 a.m. to 8 p.m. For more information, visit summitmetroparks.org or call 330-867-5511.