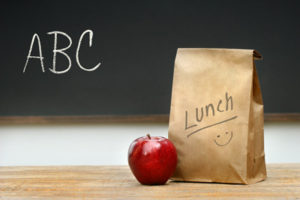 Late in the weekend, Wadsworth City Schools put out a list of food options available for students as the district – and schools across 28 states – are shutdown due to the coronavirus pandemic.
The Wadsworth City School District began distribution of food bags to students on March 17.  The goal is to distribute bags Monday through Friday during the school closure, provided guidance from the CDC, Ohio Department of Health, Medina County Health Department and Governor allows for such a service to continue.
The initial plan is to deliver bags to the following locations:
– Franklin Elementary School (200 Takacs Drive)
– Lincoln Elementary School (280 North Lyman Street)
– The Salvation Army (527 College Street)
– The Garage Ministry (126 North Pardee Street)
– Wadsworth High School (625 Broad Street)
– Weatherstone Club House (1100 Ledgestone Drive)
Bags will be available at each location from 10:30 a.m. – 11 a.m. each day.  Each bag will include a lunch and a breakfast.  While one family member may pick up a bag for each student in his/her family, we will need the name of each student a bag is being taken for to remain in compliance with both federal and state rules.  No student will be denied a bag.  In an effort to comply with current recommendations, the bags will be distributed outside of each location and we ask the social distancing guideline of six feet be followed.
In an effort to help the district plan, it is asked you would please fill out the survey, which can be found by clicking the link below. Responses will remain anonymous:
Here is the .PDF link sent out by Superintendent Dr. Andy Hill, along with some other food options not included in his food pantry link.
ADDITIONAL FOOD RESOURCES:
The Garage Ministry
126 N. Pardee St.
Wadsworth, Ohio 44281
Free packed lunches will be available at Garage Ministry March 16 and March 17 — at least. "We are prepared to do more days, if needed," Laurie Beal said in an email to the district. Pick-up will begin at noon and end at 1 p.m., or until we run out. You are asked to only pick up the amount you need for each day.  "We will help fill in the smaller gaps (such as family meal bags) once the schools take over."
Pick up of lunches will be in front of Garage cafe. If it's not raining, we will have them ready to hand you through the car window.
The Garage may be able to deliver if you absolutely CANNOT get to The Garage. Call Laurie Beal to possibly arrange: (330) 472-5063.
Lunch Stock Up at the Wadsworth Salvation Army
The Salvation Army
527 College Street
Wadsworth, Ohio 44281
The Wadsworth Salvation Army will be offering lunch foods to families in need during the state mandated schools shutdown. Beginning Tuesday, March 17, if you are a family who relies on school lunches/breakfast for your children, please feel welcome to come to The Salvation Army and pick up bagged food for your children to help combat the need.  Families will be welcome to come once per week while their supply lasts. This is NOT a normal monthly pantry appointment, rather an additional service to combat this need. No appointment necessary, please drop by anytime between the hours of 9:30 a.m. and 3:30 p.m. Please bring a photo ID. Please call (330) 335-2327 with questions.
In addition to our own food stock up program, Wadsworth Salvation Army will be a distribution site for the school lunches from 10:30 a.m. – 11 a.m. each weekday beginning March 18. 
Feeding Medina County Food Bag Distribution
Feeding Medina County will have a free food distribution for Medina County residents on Thursday, March 19, beginning at 7:30 a.m. at the Medina County Fairgrounds. Please bring your photo ID and stay in your car. A Feeding Medina County representative will come to you to get your information and provide you with food. They are avoiding the usual crowd in the community building to be in compliance with Gov. DeWine's directives and working on trying to get other distributions. For more information: (330) 421-4816.
Wadsworth FISH
Anyone needing assistance from Wadsworth FISH must call the FISH Hotline (330) 336-4300 and leave their phone number. They will receive a phone call back for an interview on Monday or Tuesday between 6-8 p.m.
TALKING ABOUT CORONAVIRUS WITH YOUR KIDS:
8 ways to keep the peace while kids are home: "Good Morning America" asked education experts how to keep order in the home during this uncertain time. Key takeaways: Avoid the snow day mentality and think more long term.
Managing fear and anxiety during a health pandemic: If you're struggling with how to manage your family's increasing anxiety about the current public health crisis, you're not alone. As information about Coronavirus (COVID-19) continues to unfold, many families are experiencing a wide range of thoughts, feelings, and reactions.
From lists of activities to keep kids engaged through school closures, to decisions about whether to go ahead with a previously planned birthday party or not – you can discuss just about anything on your mind in this *Positive Parenting Facebook group. Here, here, here and here are some great discussion threads so far. (*You may have to ask to join the group to see the threads).
The following resources/links come from the Wadsworth School District counselors:
Talking to Children About COVID-19: A Parent Resource, National Association of School Psychologists
Talking to Kids about the Coronavirus, Child Mind Institute
Coping with Stress During Infection Disease Outbreaks, SAMHSA

LEARNING RESOURCES/TIPS FOR KIDS:

Kindergarten (because my son has an awesome kindergarten teacher):
Teach Your Monster To Read: https://www.teachyourmonstertoread.com/
Day-by-day projects to keep kids reading, thinking, and growing: https://classroommagazines.scholastic.com/support/learnathome.html
Sight word worksheet (printable): https://www.yourmodernfamily.com/kindergarten-sight-words/?fbclid=IwAR0akFYQVTuYjIguKALwA72etQ-kbDT1FAEQMRph33vevyu1T2-pQLqQV-o
Fun activities here: abcya.com

Other educational resources:
10 edcucational YouTube channels for kids
Here is a list education companies offering free subscriptions to keep your kids learning at home.
40+ virtual tours your kids can take from the couch
Cincinnati Zoo will offer a Home Safari Facebook Live each weekday at 3 p.m. where they will highlight one of their amazing animals and include an activity to do from home. The first safari session is March 16 and will feature Fiona the Hippo!
Cleveland Zoo will launch virtual classroom on Facebook Live! Beginning March 17, you can watch it HERE.
Lunch DOODLES with children's author Mo Willems daily!
Actor Josh Gad is virtually reading to kids at night. He is the voice for Olaf in Frozen!
NASA makes entire media library publicly accessible and copyright free.
ADDITIONAL INFORMATION:
Restaurants: This newly created Facebook group is a place you can invite your favorite Medina County restaurants to share their take out menus as well as current information regarding operational changes, etc.
Disney+: Just throwing this out there, Frozen 2 is out early on Disney+ due to the quarantine.
LATEST UPDATES FROM MEDINA COUNTY HEALTH DEPARTMENT AT 2 p.m. March 16:
Testing results are coming in daily and the accurate picture of the situation is beginning to be reflected in case numbers. You will see rising case numbers before deaths begin to be attributed to COVID-19. I am not saying this in any way to alarm you, but I do need for everyone to take this situation seriously. The closing of bars and restaurants is economically devastating to small businesses, but it had to be done because citizens were not taking the warnings of public health seriously.
You may be hearing people complaining that flu kills more people each year than COVID-19 has done. While I am glad that people are talking about the impact of seasonal flu, I also need to put it in perspective. We are currently still in the 2019-2020 flu season which generally runs from October – March. In the 2018-2019 season there were 35.5 million estimated cases of the flu with 34,200 deaths. That is with a virus circulating that people have residual immunity to from previous exposures and/or boosted immunity to from receiving a flu shot.
COVID-19 has been present in humans for just a handful of months. We do not, and will not soon, have a vaccine for this virus. Nobody has built up immunity because this is an animal virus that has entered into humans. Statistical modeling, using flu as the basis and what we know about the ability of COVID-19 to spread, puts best estimates at 40% of the U.S. population infected and worst estimates at 70%. Where we are in the 40-70% depends on the measures that we take now to slow the spread. Take the best estimate and do the math of 10% having serious complications and even a low 1% death and you are still talking about 5,260 Ohioans. (5,260,095 infected, 526,009 seriously ill, 5,260 deaths – using best estimates only ). Multiple that across the nation.
Overlay all of these cases within a 2 month time span, along with the flu illnesses that are still occurring and the other normal reasons that people need to seek medical care, and you can see why the medical system is going to be overloaded. Kidney failures, heart attacks, strokes etc. are all still going to keep occurring. There is no pause button on other illnesses while we are addressing this new one. The more we can slow spread of COVID-19 the more we can spread out the number of people with serious complications over time and allow our medical system to care for them.
My continued request to everyone is that we remain calm but take recommendations seriously.
What steps can we take?
The most important step each person can take is to act responsibly with your own health. Keep an arms-length distance between yourself and other people. If you begin to feel ill, stay home and away from others in your home as much as possible. Here is a link to doing this: https://www.cdc.gov/coronavirus/2019-ncov/hcp/guidance-prevent-spread.html
I know you are all working quickly at this point on sick leave, remote work, and continuity of operations planning. If you need help getting this into a written format, please email bstyer@medinahealth.org and he will send you a base document that you can customize. He can also answer planning questions that you might have.
Why are some events and locations closed and not others?
There will be further announcements made of closures when common sense is not prevailing.
Is testing available?
COVID-19 testing is still reserved for those persons who meet guidelines. Physician orders are necessary in order for a sample to be submitted.
What is the Health Department doing?
Local announcements, resources, and copies of state orders can be found at www.medinahealth.org. Our website also contains links to state and federal websites. We will not continue to announce cases. Numbers by county are available at coronavirus.ohio.gov and are updated daily at 2 p.m.
OTHER HELPFUL LINKS:
Vaccine in the works: Coronavirus vaccine test opens as volunteer gets first shot.
How long coronavirus lives on surfaces: the answer is potentially 9 days.
UA closing dorms: University of Akron to close dorms, hold online classes for rest of semester due to coronavirus
Routine dentist appointments put on hold in Ohio during coronavirus crisis