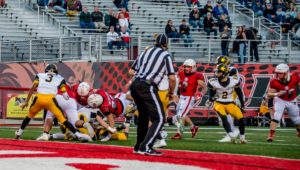 Both the Ohio High School Athletic Association and the Ohio Associated Press have released their weekly football polls for Week 8 of the season. Wadsworth made a move in the computer ratings.
In the computer rankings released on Tuesday October 16th, In Division 2 Region 7, Wadsworth moved up one spot from third to second following their 41-0 victory over Twinsburg last Friday to improve their record to 8-0, 5-0 in the Suburban League. Massillon is in first place in the region. Barberton is in third place.
In the Ohio AP Statewide Poll, Wadsworth continues in sixth place in Division 2. Akron Archbishop Hoban continues in first place and Massillon Washington is third.
This Friday night, Wadsworth travels to Brecksville-Broadview Heights to take on the Bees.