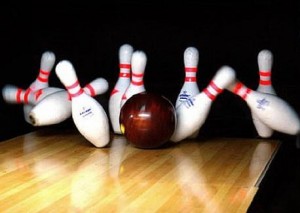 The Wadsworth Boys Bowling team came up with a big win last night, defeating Kent Roosevelt by 166 pins with a total pinfall of 2,617. And for the third match in a row, a new school record was established. Eric Auffenburg bowled a 526 to set a new record for pinfall in a two-game series. Eric bowled a 237 and a 289 to set the record. Chris Steele had the record of 522 pins that was set last week.
The news wasn't so good for the Wadsworth Girls Bowling team. Kent Roosevelt defeated the Lady Grizzlies by 163 pins.
The boys team is 8-2 overall and 6-2 in the Suburban League.
The Girls team is 1-8 overall and 1-6 in Suburban League play.
The match was bowled at Kent Lanes.