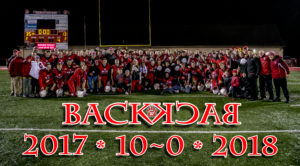 The Wadsworth Grizzlies rallied from being 13 points down to defeat the Hudson Explorers 35-13 in the final regular season game.
The Grizzlies go 10-0 in the regular season and 7-0 in the Suburban League's National Conference. It's the first time in 40 years that Wadsworth has won back-to-back Suburban League National Conference Championships and 50 years since the Grizzlies had back-to-back undefeated seasons.
Wadsworth was able to gain control of the game in the second quarter and took a 14-13 lead at halftime.
In the second half it was all Wadsworth as they scored three touchdowns, two in the third quarter.
Junior quarterback Trey Shaffer threw for 153 yards and three touchdowns, two of them to Barrett Labus.
Leading the way for the Grizzlies on Senior Night was senior running back Brock Snowball, who carried the ball 40 times for 234 yards and two touchdowns.
Next Friday, the Grizzlies will host a playoff game at Art Wright Stadium against an opponent to be announced.