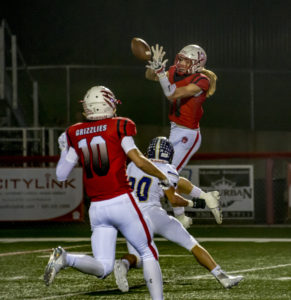 The Wadsworth Grizzlies defense forced North Royalton into four turnovers en route to a 47-21 win over the Bears on Homecoming night at Art Wright Stadium.
The Grizzlies scored two touchdowns in the first half before North Royalton closed the gap to 13-7 with two minutes to go in the second quarter. Wadsworth took the kickoff and marched down the field and scored with 11 seconds remaining in the first half on a 2-yard run by Brock Snowball to lead 19-7.
Wadsworth took the kickoff to start the second half and scored on a 10-play, 80-yard drive that took 4:58 off the clock. Dom Loparo scored his third touchdown of the night on a 7-yard run to make the score 26-7.
After the ensuing kickoff, Mason McMillen intercepted a pass and returned it 31 yards for a Wadsworth touchdown to make it 33-7. Both teams scored twice more in the second half to make the final 47-21.
Wadsworth is now 4-0 in the Suburban League and 7-0 overall and play Twinsburg next Friday night on the road.