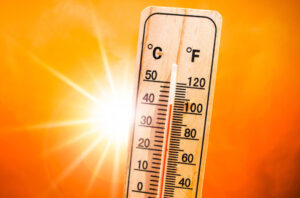 The National Weather Service has issued a heat advisory beginning at 10:00 Wednesday morning.
Heat index values up to 107 degrees are expected.
You should drink plenty of fluids, stay in an air conditioned room, stay out of the sun for long periods of time and check up on friends and neighbors.
Meanwhile, there is also an Air Quality Advisory in effect for northeast Ohio. Air Quality levels may be unhealthy for sensitive groups, such as the elderly and children. You are asked to drive less on air quality advisory days, use public transit and work from home if possible.
If you are medically fragile, hydration and limiting your time outside will be especially important as the heat wave grips our area. Kevin Brennan, with the Cuyahoga County Department of Health, says dehydration can occur especially when a person is outside exerting themselves.
"You also run the risk of heat cramps, heat exhaustion or heat stroke. Those come with prolonged exposure to the sun. You're not giving your body a chance to breathe effectively so a lot of the heat gets trapped inside your body," Brennan explained.
Older adults, children, people with disabilities and those who work outside are at risk for a heat-related illness.
You might want to limit your time outdoors to the morning and evening hours and wear light-weight, light-colored and loose-fitting clothing.
The Wadsworth branch of the Salvation Army will be a cooling center for those needing to get out of the heat. You can stop by the Salvation Army on College Street Wednesday and Thursday between 10 a.m. and 3 p.m. to enjoy the air conditioning, get a cool drink and eat lunch.
You can check the latest forecast HERE.