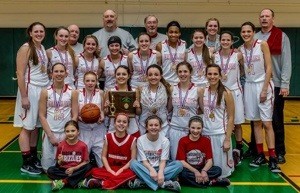 The Wadsworth Lady Grizzlies basketball team came out strong from the start Thursday night.
Their passion on the court led them to a 58-26 win over Avon, making them district champs.
The Wadsworth Lady Grizzlies will play in the Regional Semifinals vs. North Royalton on Tuesday, March 10 at Strongsville High School at 7 p.m.
Presale tickets will be on sale in the Athletic Office on Friday from 10 a.m. – 3:30 p.m. and Monday and Tuesday from 7:30 a.m. – 3:30 p.m. All presale tickets are $7. All tickets at the gate are $8.
A portion of the presale ticket money comes back to Wadsworth High School.