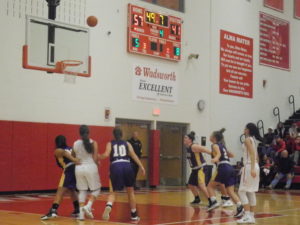 The Wadsworth Lady Grizzlies rallied from an 11-point deficit in the first quarter to defeat Lakewood 58-44 in the season opener for both teams.
Wadsworth and Lakewood traded 13 point runs in the first quarter. When the dust settled it was 15-15 at the end of the first period.
The Lady Grizzlies held a 10-point lead at halftime 35-25. Lakewood started the third quarter with a 9-0 run. But, the Lady Grizzlies righted the ship to hold a 45-38 lead at the end of three periods.
Lexi Lance scored three baskets in the last quarter to put the game away.
Lance led Wadsworth with 12 points. Taylor Leatherman and Kacie Evans added 10. Sophia Fortner, in her first game since missing all of last season because of a knee injury added 8 points.
Wadsworth (1-0) will play Nordonia next Saturday night at Wadsworth High School. Game time is 6 pm.