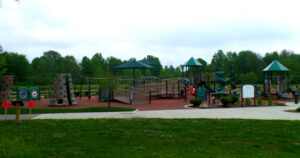 The Medina County Board of Developmental Disabilities (MCBDD) is presenting a "Toddler Garden Party", for families with children ages 0-3 on Monday, May 22 from 10-11 a.m. at Carolyn Ludwig Mugrage Park (4985 Windfall Road, Medina).
Children are children regardless of where they are in their development. They all like to learn, explore, and grow through play. That is why the MCBDD has created its Play, Learn and Grow Group; a community playgroup for young children ages 0-3 and their parents/guardians. The goal is to provide informal community gatherings, based on a specific theme, which gives young families a chance to meet, form connections and share experiences and challenges of raising toddlers. The theme of this year's first session celebrates Spring through a "Toddler Garden Party".
During the event, MCBDD's Early Intervention staff will be providing opportunities for sensory play, songs, toddler activities, early childhood development information and, of course, snacks.
"Young children learn best from each other, which is why activities like our Play, Learn and Grow Group are great opportunities for families of young children to gather, have some fun with their child and meet and learn from new toddler playmates," states Celeste Bajorek, MCBDD Director of Children's Services.
The "Toddler Garden Party" is free and open to any family with children ages 0-3 with or without disabilities. In case of rain, this event will be held on Wednesday, May 24 – updates will be posted on the MCBDD website at www.mcbdd.org. For more information or questions, contact the MCBDD Early Intervention staff at 330-725-7751, option 1 or visit www.mcbdd.org/event-calendar/