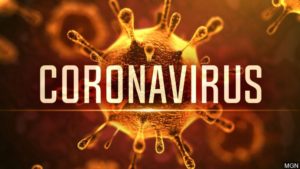 Ohio has its first three confirmed cases of coronavirus, all in Cuyahoga County. On March 9, Gov. Mike DeWine made the announcement. One of three Cuyahoga County residents with confirmed coronavirus is a Jewish Education Center staff member. The offices there will be closed for two weeks. The Jewish Federation of Cleveland says the person who tested positive is now quarantined.
The Ohio Department of Health is monitoring the coronavirus closely, updating their online page with possible, suspected and negative cases daily (by 2 p.m.). You can get those daily updates by clicking HERE.
Meanwhile, Wadsworth is prepared to follow the directions and guidance of the lead public health agencies to maintain the safety of the community. Currently, the best advice is to practice frequent hand washing with soap, keeping your immune system healthy by eating balanced meals and getting adequate rest, and staying home when sick.
WADSWORTH SCHOOLS TAKES PRECAUTIONS

The Wadsworth School District is also following the Ohio Department of Health recommendations. "Our staff wipes down high-touch surfaces, such as desktops and door handles, on a daily basis using disinfectant," explains Superintendent Dr. Andy Hill in an email. "The best defense against the spread of respiratory viruses, including Coronavirus and influenza, is prevention and planning."
These ODH recommendations can help reduce the risk of infection for illnesses, such as flu and coronavirus:
Wash your hands for 20 seconds or more with soapy water. If unavailable, use hand

sanitizer

.
Avoid touching your eyes, nose, or mouth with unwashed hands.
Avoid contact with people who are sick.
Stay home while you are sick (except to visit a health care professional) and avoid contact with others.
Cover your mouth/nose with a tissue or sleeve when coughing or sneezing.
Get adequate sleep and eat well-balanced meals to ensure a healthy immune system.
"If your child is sick, please keep him/her home from school. Children must be free of a fever, without fever reducing medication, for 24 hours," Dr. Hill reminds parents and guardians. "Students who miss school due to illness will be excused, and they will be able to make up work that counts toward their overall grade."
EPA SUGGESTED CLEANERS THAT KILL VIRUSES, INCLUDING CORONAVIRUS
For those looking for a way to help reduce the spread of germs with the viruses currently circulating, the EPA has come out with a list. Lysol, Clorox, Purell products make the EPA's disinfectants list for killing coronavirus and other viruses. You can read more in depth via this article from USA Today.
Meanwhile, stores like Kroger and Target are limiting the sales of hand sanitizer and disfecting wipes. You can read more about their plans HERE.
SYMPTOMS OF CORONAVIRUS vs. FLU vs. ALLERGIES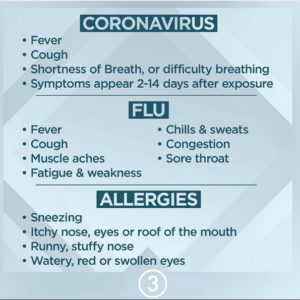 WHAT WE KNOW ABOUT THE 3 CONFIRMED CASES SO FAR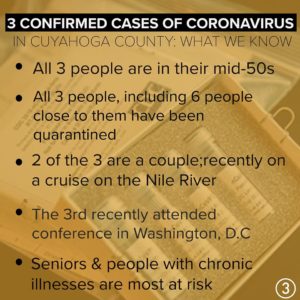 You can follow the latest Ohio coronavirus updates HERE.