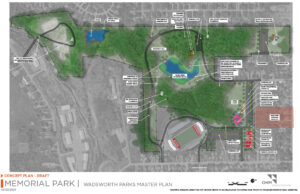 The master plan of several Wadsworth parks and trails has been unveiled and the vision is incredible!
Memorial Park will be among the first to get a facelift. Phase 1 includes taking down "castle park" – the beloved wooden play structure – and replacing it with a "destination playground".
Over time, Memorial Park will transform into a community hot spot for families and children. It will get pickle ball courts and a basketball court, ice skating area, splash pad, fishing platform and amphitheater and so much more!
"Regarding Kaleidoscope, the plan is to replace the worn out structure with a new "destination" playground. I know that others share your feelings of bittersweet, due to the magnitude of enjoyment that structure has brought to the community over the past 25 or so years," Wadsworth service director Robert Patrick explained in an email to Wadsworth Community Radio. "We plan to replace "the castle park" (wooden playground structure) with something just as magnificent, or better, but they have not come up with what the theme will be or what that will look like. That is the next step that we are moving forward with asap. We want to have that constructed this year, so they (OHM Advisors) are moving forward with the detailed design of the first phase of Memorial Improvements which will entail the destination playground and the new court complex nearby."
Durling Park will also be improved, along with Weatherstone Park, Valley View and Friedt parks. Holmesbrook Park, which is now run by the county, is included in the scope of work to have a playscape added to it!
There's also going to be a downtown pocket park – a small park next to No. 1 Chinese – complete with open space, some sculptural play elements and safety surfaces.
If you notice anything missing from the park plans below, it's because the city has a vision to create a sports complex and park, complete with baseball and softball fields and play space. The 205 acres of land, known as the brickyard property, is near The Village of St. Edward, a retirement and assisted living community.
The land used to be home to a brick factory and has been unused for years. Patrick says the city is offering to pay $1.95 million to purchase the property. City council has the final say.
You can see all of the design plans below: