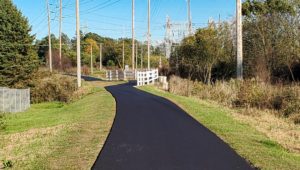 The project to repave the two-mile long Interurban Trail in Wadsworth, between Water Street and Silvercreek Road, was completed in just about a week.
Beginning at the intersection of South Boulevard and Water Street and continuing to the trail's terminus at Silvercreek Road, the interurban trail's 5,400 linear feet of limestone surface received an asphalt coating. The pavement will provide a smoother surface for bikes, strollers, and wheelchairs to utilize the 8-foot wide multi-purpose trail.
The 17,000 square foot parking lot serving the Trolley Line Park and Trolley Line House will also receive an asphalt coating, parking space striping, and ADA compliant, van-accessible parking spaces.