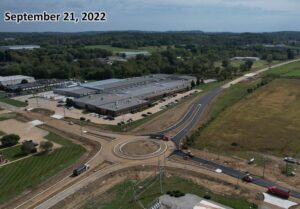 Another delay in the completion of the roundabout project at State Route 57 and Seville Road. The intersection was supposed to be open today (Oct. 5), but the new opening date has been pushed back two weeks to Oct. 19.
The reason: a delay in receiving the street light poles which should arrive sometime next week.
Wadsworth Service Director Robert Patrick says other aspects of the project, including landscaping, striping and concrete work are just about completed.
Patrick says ODOT will send out a press release informing the public about the delay as this is their project.